ABOUT

Kerry Accordion player Jonathan Roche hails from Brosna - a small parish in the Sliabh Luachra area of North Kerry steeped in a rich musical tradition. From an early age Jonathan displayed a keen interest in traditional Irish music, the accordion in particular, having spent many afternoons "pulling and tearing" at an old battered hohner accordion in his grandfather's attic!

At the tender age of 8 years, Jonathan attended his first music class in Brosna under the renowned tutelage of Cecilia Regan. With a great help from a number of local accordion players, and in particular his neighbour Joe Mulcahy who was called to on a weekly basis for help with tunes, he started to make some progress and before too long something that resembled a Jig emerged from the reeds. In the following years, Jonathan spent time learning from local accordion players Donal De Barra and Willie Larkin, both of whom had a huge influence on his style of playing.

In the late '80s, two great venues existed for traditional music in the neighbouring town of Abbeyfeale - the Fáilte bar and the Cellar bar. Regular visitors to the venues included accordion players Tony McMahon, Paul Brock, Jackie Daly, PJ Hernon, Joe Burke and Seamus Begley, a fantastic exposure to the greats of the instrument for any inspiring young box player.
CEOLMHAR
€17 + €1.50 P&P Worldwide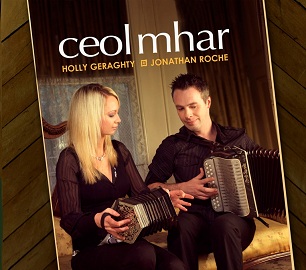 While most of his school friends were playing football or on foreign holidays for the summer, Jonathan was off to music festivals eager to learn more, and no summer was complete without a week long workshop with Jackie Daly in Miltown Malbay at the Willie Clancy Festival. During his teenage years he was a regular competitor in the fleadh ceoils, and went on to capture two All-Irelands on the melodeon and a Munster title on the two row button accordion.

These successes brought Jonathan to the attention of a number of dance shows, and lead to summer tours of Australia and Asia with "Spirit of Ireland". Further spells were spent playing with renowned productions such as "Ragús" and "To Dance on the Moon", the highlights of which were trips to Dubai and playing to a full house in the renowned Vicar Street venue in Dublin.

While studying computer science in cork, he was a regular visitor to sessions in the spailpín fánac, the gables and the faran well, with the occasional morning lecture paying the price! After six fond years in the real capital and a masters degree in computer science in his back pocket, it was time to focus on a career in software engineering.